In two days 8-9 / 1, the National Congress of the Union of Arts and Sciences of Vietnam IX course, the term of 2016-2021 was held solemnly in Hanoi.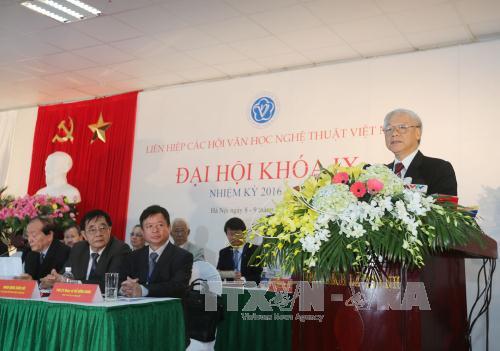 General Secretary Nguyen Phu Trong addressed at the congress. Photo: Tri Dung - VNA
Party General Secretary Nguyen Phu Trong attended and addressed the Congress. Attending the congress also included leaders of many committees, ministries, central agencies; 475 delegates were typical artists, 63 key literary and artistic associations of the province and cities, and 10 specialized literature associations of the central level, representing more than 40,000 artists nationwide. .
With the motto "Renovate the mode of operation, move strongly to deep support, especially attach importance to quality and creative efficiency", the Congress conducted democratic discussions, passed the final report on the work by the Union of Arts and Literature Vietnam VIII course, term 2010-2015; Orientation of the course of the IX course, term of 2016-2021.